Perfectress is a leading US high end Remy hair manufacturer and distributor with over 50 years of experience in sourcing highest quality hair.


Perfectress International credits itself as being a "Fair Trade" biased company. Following a strict set of ethical guidelines, they only source the healthiest, freshly cut Raw Remy Hair. The hair is never stored long-term, bought from other suppliers, or taken from unknown collectors and is comprised of a seamless combination involving Indian, Chinese and European hair.
Perfectress uses a unique blend known as a "Euro-Blend." The hair is infused with a Perma Moisture Treatment where the protein is injected directly inside the hair cortex, preventing the hair from drying out. No chemical treatments are used when fabricating our vast selection of hair textures. Our high-end hair is extremely durable while our colors are impervious to fading. In fact, the hair can be worn up to a year with proper maintenance.
Perfectress is also a pioneer in safe and reusable application methods that allow our clients glue free, no damage, affordable and efficient way of enhancing their look.
Connections
This advanced strand by strand hair extension system utilizes a smarter, less wasteful concept that's both simple and innovative. Using the latest technology, they've mastered a streamline reusable design with long lasting, high-end results.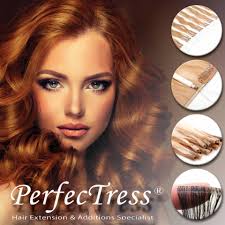 A SAFE CHOICE 
No Damage: Perfectress Connections maintain the integrity of the natural hair. No heat, glue or solvents are used during the installation and removal process.
Comfort: Once attached the Perfectress Connections lay flat and hold securely in place. Clients will sleep soundly forgetting the soft connections are even there!
Affordable: Add texture and color to fit the latest trend! Our Perfectress Connections are reusable up to 3 times with proper maintenance! It's hair that last an entire year!
Efficient: With our revolutionary assemblage, Connections allow for a speedy application and removal process. As a result, clients are in and out of the chair faster, granting stylists more time to book extra appointments!
Application: The application time is cut in half compared to other systems! Achieve five star results in no time at all! A full service is easily achievable in under 2 hours.
Removal: A full service is effortlessly removed in under 10 min
Tape Weft
Perfectress Tape Wefts are unbeatable due to the unique way of attaching the tape to the weft, paired with the quality of the tape used. Say goodbye to sticky residue and fast dissolving tapes due to innovative re-taping system. They are reusable up to 5 applications and require removal and re-taping only every 2 months. The typical lengthening service takes on average only 45 min to apply and you'll be amazed on how quick your look goes from dull to fabulous!!
LINK WEFT
This is the newest, most innovative hair extension products on the market. It's the natural evolution in hair extensions. The Link Weft system is fully customizable. Stylists are given complete creative control by making each weft the exact length and width to suit your needs. No glue, heat or sewing in is required.