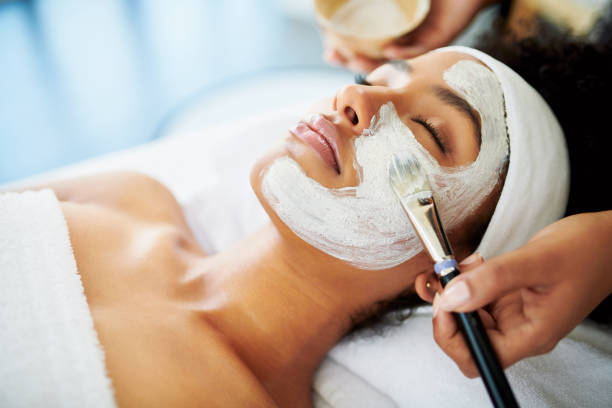 ---
---
Featured Facials
---
---
Seasonal Facials
Pumpkin Late   
60 min – $80 
Featuring a tingling pumpkin enzyme to exfoliate and brighten the skin, & an arabica coffee bean mask to target redness and signs of aging, you'll leave feeling smooth and glowing! This is a powerful enzyme and is not suitable for sensitive skin or rosacea.
Elderberry
60 min – $80 
Featuring an elderberry enzyme to exfoliate and brighten the skin, & an elderberry mask packed full of antioxidants and peptides you'll leave feeling hydrated and glowing! This enzyme will still have a tingling effect but is suitable for sensitive skin.
---
Knick Signature Facial
60 min – $80
Not sure which facial is best suited for you? Let our experienced Estheticians analyze your skin and recommend a facial that is uniquely customized to meet your specific needs and preferences. Customized luxury awaits that will leave you feeling relaxed and refreshed, and will have your skin glowing! 
---
Anti Aging Facial
60 min – $95
Designed to lift and sculpt the face to target signs of aging. Our anti aging facial helps to reduce the look of fines lines, wrinkles, sagging, dullness, texture, and more by focusing on restoring moisture to the face as well as using lifting massage techniques to leave you feeling youthful, and toned.
---
Clarifying Facial 
60 min – $80
Skin feeling clogged? Having trouble with acne? Our clarifying facial is the perfect solution. Designed to help clean out pores, reduce inflammation, and calm the skin with soothing ingredients our Estheticians will have you looking your best in no time. Great for teens!
---
Dermaplane Facial
60 min – $100
Reveal your smoothest and brightest skin! A complete customized facial with dermaplaning. Dermaplaning is a manual exfoliation method that uses a medical-grade blade to gently scrape the surface of the skin, removing dead skin cells and excess hair (peach fuzz) while promoting cell turnover. You can expect immediate results and leave with baby-soft, glowing skin.
Dermaplane Only – 45 minutes – $70
---
Microdermabrasion Facial
60 min – $75 or 5 for $275
Exfoliation of the skin that helps to stimulate blood flow, increase collagen production, and diminish the appearance of fine lines and wrinkles. This treatment helps to even out texture, fade the appearance of sun damage, and hyperpigmentation resulting in firmer, more youthful looking skin.
Series of 5 recommended
---
CBD Facial
60 min – $95
CBD is derived from hemp and has many benefits for the skin. It has anti-inflammatory properties to help soothe irritated skin, reduce redness and puffiness all while improving moisture retention, elasticity, and more. Our CBD facial will have you feeling relaxed in no time!
---
All Vegan Facial
60 min – $95
Staying true to our vegan roots our all vegan facial is made with both you and the planet in mind! Our experienced Estheticians will create a completely customized facial to suit you and your skin's needs using only our vegan certified products, so you can feel good both inside and out.
---
Gentlemen's Facial
60 min – $75
Men need facials too! Our gentlemen's facial is the perfect way to pamper the men in your life. Our experienced Estheticians will create a custom facial to suit you and your skin's needs, so you can leave feeling refreshed and relaxed.  
---
Radiant Express Facial
30 min $45
Want to feel refreshed but don't have a lot of time? Our express facial is perfect for those on the go! Don't worry though, shorter time doesn't mean any less customized.
---
Body Treatments
---
Back Facial
45 min – $65
Seasonal changes may cause the pores on your back to clog, causing breakouts, itching and irritation. This treatment is designed exclusively for the beauty and health of your back, an area often forgotten, it includes steam, exfoliation, extractions, skin-specific treatment masks and intense moisturizing to leave your back and shoulders looking healthy and glowing.
Baby Bump Facial
45 min – $55
Calling all mommy's to be! Our baby bump facial is the perfect way to relax while treating your skin to help decrease the look of stretch marks, hyperpigmentation, and more. This treatment also helps restore moisture to the skin using a hydrojelly mask leaving you soft and glowing! Great for maternity shoots!
---
Facial Enhancements
Facial add-ons must be booked with a facial and can not be booked as a stand alone service. Please note and be aware that not all of our Estheticians perform every add-on service.
Aromatherapy – $8
Choose from an array of scents to incorporate into your service.
Neck and Décolleté – $25
This treatment is targeted to give the neck and décolleté some extra TLC.  Our vitamin A infused cactus toning gel is used to firm, moisturize, brighten the skin, and increase circulation. 
Dermaplane – $35
A medical-grade blade is used to gently remove dead skin cells and excess hair (peach fuzz) leaving you with soft, glowing skin. 
Microdermabrasion – $35
A non-invasive form of exfoliation that can help treat uneven skin texture, dullness, dark spots, & more. 
Under Eye Treatment – $10
Vitamin C and caffeine gel patches are applied under the eyes to brighten & moisturize the skin, followed with a hydrating eye cream to help diminish the look of fine lines, wrinkles, and dark circles.  
Lip Treatment – $10
An exfoliating scrub is used, followed by a nourishing mask, & finished with a moisturizing lip balm to leave you with soft, plump lips. Great for the winter! 
High Frequency – $15
A low-level electrical current is used that adds oxygen to the skin, stimulating collagen, elastin production, kill acneic bacteria, and more. 
Enzyme – $20
A form of exfoliation that uses fruit enzymes to help treat dark spots, fine lines, acne scars, hyperpigmentation, and more.
Scalp Treatment – $15
Our signature hair oil with scalp massage to promote relaxation, stimulation, and hair growth.
CBD – $8
With antioxidant and anti-inflammatory properties CBD may help with acne, eczema, inflammation, & more
Beard Treatment – $15
Our signature beard oil is used in conjunction with massage to help stimulate growth & soften the hair & skin. 
PCA Sensi Peels – $35
Sensi Peel will strengthen and brighten the skin while helping to treat sun damage and other forms of hyper pigmentation. This multi-faceted treatment also provides anti-inflammatory, anti-acne and antibacterial action, making it an excellent choice for helping calm rosacea, as redness and inflammation can subside substantially after treatment.This gentle solution is appropriate for all skin types, conditions and sensitivity levels.
Foot Treatment – $10
Our Honey Heel glaze is used with hot towels to give you hydrated, baby soft feet. Add hands for another $10.
Reiki – $20
A Japanese technique that uses energy to promote relaxation, stress reduction, and healing for the mind, body & spirit. 
---