Alpha Salon & Spa Capsule in Milwaukee, WI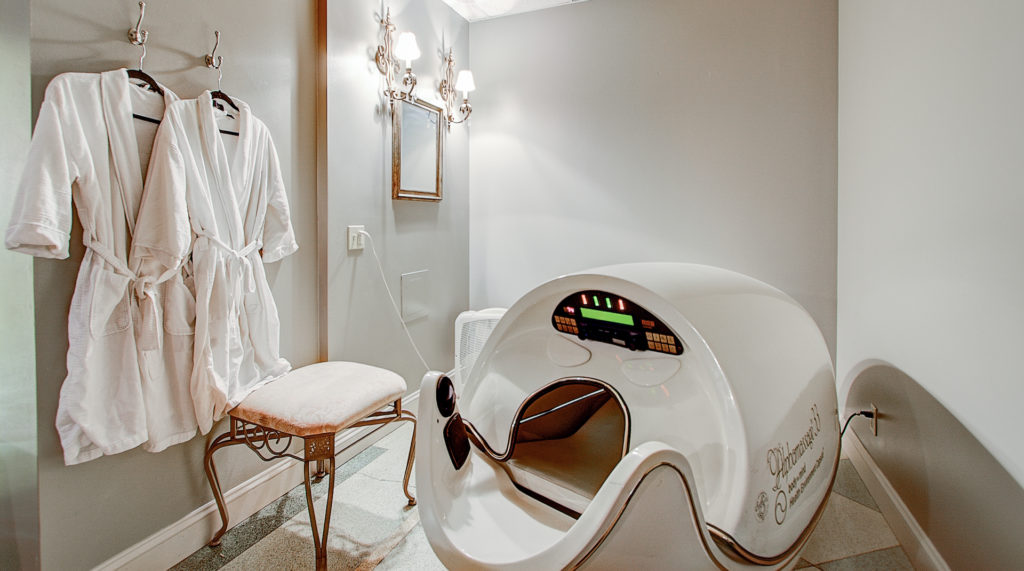 We Believe in Sustainable Beauty
The Alpha is a spa therapy system that offers a variety of beauty, wellness and relaxation programs. It is a dry heat sauna, unconfined, allowing free movement of the entire body. While your head is exposed outside of the capsule, cool air refreshes the face to balance the warmth your body is experiencing. Heated vibration massage, and aromatherapy, surrounds you with nurturing sounds of relaxation. Calming the mind and body for peak performance, this creates harmony, optimum health and a sense of balance overall.
Vibratory Massage Therapy
Aromatherapy
Detoxification
Increases circulation
Eases muscle tension
Stress management
Burns calories
Rejuvenation for the whole body
Computerized Programs for Detoxification, Pain Relief, Relaxation, Tissue Repair, Rejuvenation & Stress Relief
At the Knick Salon and Spa, we believe in total body rejuvenation through all senses and use unique alternative therapies. The Alpha Capsule system enlists help from all of your senses for your relaxation, tissue repair and rejuvenation! Computerized and Customized programs are used for Detoxification, Pain relief and Relaxation, Tissue Repair and Rejuvenation and Stress Relief. Warm, soothing massage vibration, aromatherapy, and audio program provide the perfect environment to distress, relax, heal and rejuvenate. The Alpha Capsule™ Multiple Therapy System Cleanses skin and beautifies complexion. It reduces water retention and helps in Detoxification. The therapies soothe sore muscles, accelerate recovery from exercise or surgery, increase metabolic rate and rejuvenate the entire body systemically.
Rehabilitation and Pain Management
The Alpha Spa customized pain management program combined with the GX-99 therapy is highly effective for the treatment of sports injuries and enhancing rehabilitation, pain management and physical therapy programs. Heat and massage vibration delivered by the Alpha Spa Therapy increases blood circulation and elasticity of tissue, improving flexibility and functional range-of-motion. The GX-99's intense medical pulse massage interrupts pain signals and provides temporary relief from aches and pains. Chronic aches and pains bring tension, which is washed away by aromatherapy, combined with sound therapy.
Detoxification
Alpha Spa treatments cleanse your body through perspiration. By stimulating your sweat glands and increasing blood circulation to your skin surface, the thermo-regulatory process dissipates body heat and expels waste products. GX-99 Lymphatic Drainage treatment purifies the body to aid in healing and increase the body immunity.