SpaRitual
Vegan, paraben free, multipurpose spa products for hand, body and foot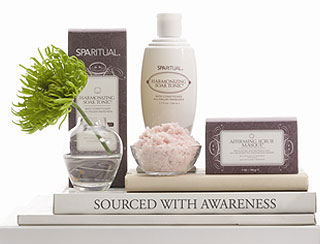 SpaRitual was founded in 2004 by Shel Pink, a beauty industry visionary and environmental activist, who was driven to realize her vision for a "conscious beauty" lifestyle brand. She was convinced that the world was ready to embrace a seemingly contradictory concept- eco-luxury.
An active force of change, and one letter away from "spiritual", the brand celebrates the age-old spa tradition, and offers a line of vegan treatment products and signature spa rituals that honor the client's health, the beauty professional's role as a nurturing force, and the sacredness of the earth.  Today, SpaRitual products are used throughout the finest spas in the world and are embraced by celebrities and tastemakers alike.
Vegan
SpaRitual product are 100% vegan.  They do not test on animals nor do they use animal by-products in their formulations.  In addition, they require their ingredient suppliers to provide a non-animal origin certificate to confirm that they are meeting the standards.
Wildcrafted
Plants are carefully harvested from their natural havitat to ensure that the remaining wild crop will thrive.
Organic
Plants are grown without synthetic fertilizers and pesticides.  The system is also Free of Synthetic Dyes and Parabens, and is Biodegradable.
Each SpaRitual treatment has subtle fragrance and therapeutic benefits that balance a specific chakra.  SpaRitual uses naturally colored vegan ingredients from around the world, including many plant essences that are wildcrafted or organic.
French Lavender
Wildcrafted French Juniper Berry
 Australilan Tea Tree oil
Wildcrefted Indonesian Ginger
Italian Mandarin
Australian Eucalyptus
Egyptian Geranium
Indian Frankincense
These are just some of the ingredients contained in SpaRitual multipurpose system of spa treatments for Hand, Foot & Body Rituals.
Vegan nail lacquers free of dbp, formaldehyde and toluene
Recognizing that color has a physiological power to soothe or seduce, nurture or ignite, SpaRitual bused the discipllines of color therapy and numerology to desgned a lush, shimmering palette of over 80 nail lacquers. Each SpaRitual shade is associated with a unique message or meaning and numeralogical value.  Each hue provides superior shine, dry time and coverage.
Sparitual wild collection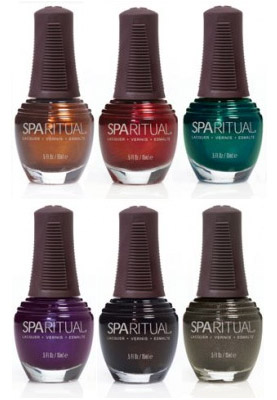 Inspired by nature and the wild woman archetype featured in Clarissa Pinkola Estes' Women Who Run with the Wolves, SpaRitual celebrates a new perspective on beauty with the release of Wilde, the brand's newest Fall 2011 nail lacquer collection.
The Wilde woman embodies her authentic self while moving with the natural rhythms of life. These jeweled lacquer colors represent her warmth and strength and have a mystical depth of color in each layer. Wilde shades include:
Spirit Child, a fiery red shimmer,
Running with Wolves, a rich copper patina,
Rhythm of Life, a glistening emerald,
Instinct, a majestic, shimmering purple,
Howl, a deep, golden black,
Sacred Ground, a sparkling grey.
«The Wilde collection encourages women to tap into their truest selves, and express themselves through feminine, sensual colors,» says SpaRitual founder & CCO, Shel Pink.
Sparitual wild mini collection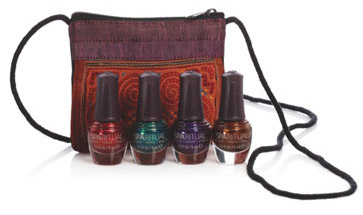 Receive free Fair Trade Wilde Tribal Bag with 4 hot minis from the Wilde collection!
Contains:
Spirit Child,
Rhythm Of Life,
Instinct,
Running With Wolves.
Hand woven by women artisans of the Hill Tribe located in northeast Thailand, our Wilde Bag is Fair Trade and sourced with awareness.
Color has the physiological power to soothe or seduce, nurture or ignite. By fusing the disciplines of color therapy, SpaRitual has designed a lush, shimmering palette of nail lacquers. Each SpaRitual shade is associated with a unique message or meaning.
SpaRitual's color experts have carefully hand-blended each hue for superior shine, dry time and coverage and their signature brush is specially designed to allow for precise lacquer application.