Bare Escentuals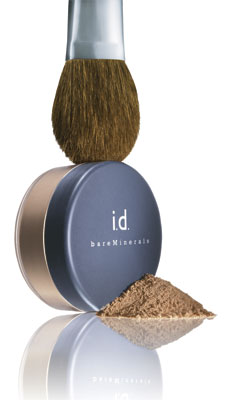 Bare Escentuals started the revolution in mineral makeup with the introduction of our award-winning 100% pure bareMinerals.
bareMinerals looks like a powder, feels like a cream and buffs on like silk, giving skin a natural luminosity. Free of preservatives, talc, oil, fragrance and other harmful chemicals, bareMinerals provides impeccable coverage for every skin type, skin tone, and concern yet it doesn't feel like you're wearing any makeup at all.
And bareMinerals are just the beginning. Their makeup line also offers complete color cosmetics and treatments designed to enhance your natural beauty, such as
lip colors,
lip liners,
ip glosses,
mascaras,
skin preps,
flawless application brushes and more.
bareMinerals And Away We Glow Collection
Baby, it is cold outside – make an entrance with this beautifully luminous 100% pure bareMinerals eye, lip and cheek collection. The weather may be frightful but it is no match for these new shimmering, glimmering glow-getters. You will come in beaming and light up the room all night long. Get ready – it is glow time.
This luminous 9- piece eye, lip and cheek collection will have you beaming with its shimmering glimmering glowgetters. It includes: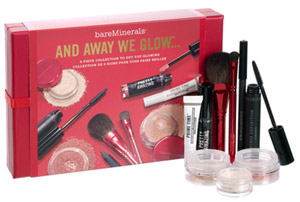 Prime Time Primer Shadow in Dove Gray
Swanky Eyecolor
Round the Clock Waterproof Eyeliner in Midnight
 M Luxury Blush
Pretty Amazing Lip Gloss in Flair
Flawless Definition Mascara in Black
Wet/Dry Shadow Brush
Contour Blush Brush
Features & Benefits
bareMinerals Eyecolors apply velvety smooth, avoiding any pulling or tugging of the eye area.
Flawless Definition Mascara accentuates and separates every lash with a sleek wand for superior definition.
Pretty Amazing Lipcolor features a one-touch-wonder cushioning wand to deposit the perfect amount of color in just one swipe.
bareMinerals READY Eyeshadow 8.0 Limited Edition Holiday 2011 Collection
Ready Eyeshadow 8.0 Limited Edition Holiday 2011 Palette – The Playlist and The Cocktail Hour. This collection is an innovative new concept in solid mineral technology. These Ready Eyeshadows deliver a beautifully smooth application of vibrant long-wearing color plus incredible skin renewing benefits.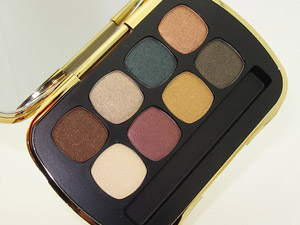 The Playlist includes the colors:
Chart Topper
Pumped
Louder
Most Requested
Max Volume
Remi
Speaker Box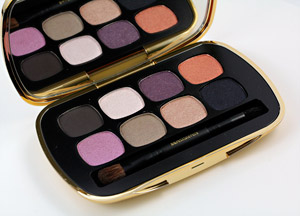 The Cocktail Hour includes the colors:
Black Tie Optional
Ice Breaker
Swanky
Spiked
Elixir
Invite only
Libation
Shaken Not Stirred
bareMinerals Pretty Amazing Mini Lips Collection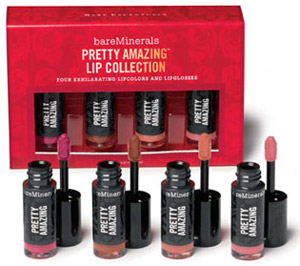 Four exhilarating lip colors and lip glosses in Confidence (pink berry), Witty (berry wine), Sawy (rosy tan) and Allure (peach nectar).
Its luxe texture and polished appearance will propel you into an elevated state of gorgeousness. bareMinerals precision applicator handles like a racecar, sculpting and accentuating every curve of your lips. The cellophane-like glaze formula cocoons your lips in high-impact color and insatiable shine. Hold on for a Bare Minerals Pretty Amazing ride.
One-touch-wonder cushioning wand deposits the perfect amount of color in just one swipe.
Lips are perfectly sculpted with 3-D color and shine.
bareMinerals Brush with Genius — $45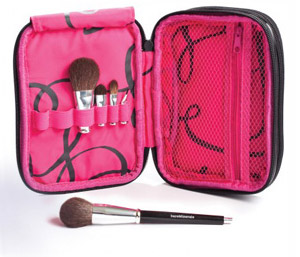 This innovative patent pending set has five interchangeable brush heads that fit securely into one magnetic, double-ended brush heads. The full range of professional-quality face and eye brushes fulfills all beauty needs.
Multi-Tasking Face Brush Head
Contour Blush Brush Head
Tapered Blending Shadow Brush Head
Long Tapered Shadow Brush Head
Slanted Liner Brush Head
Magnetic Brush Handle
Stow and Go Case